How To Choose the Best Moisturiser for Dry Skin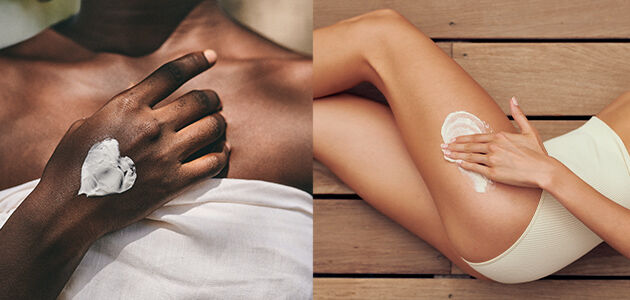 Chances are if you're reading this you have dry skin. Flakiness, irritation and tightness are all common features of this skin type, all of which can be very uncomfortable to deal with. Dry skin types are extremely common, but there are moisturisers specifically formulated to help treat and soothe dry skin. It's important for those with this skin type to have the best moisturiser with a rich and comforting texture for long lasting nourishment. Finding the best moisturiser for dry skin will ensure your skin stays healthy, hydrated and protected. L'Occitane moisturisers are enriched with organic and sustainably-sourced Shea butter, but the richness varies between products. We're sharing our guide on the difference between our moisturisers for both face and body, and why they're so effective.
Our Essential Dry Skin Moisturisers
Shea Light Comforting Face Cream is ideal for moderately dry to combination skin. It keeps skin hydrated and comforted, without being too rich.
Benefits
24 hour hydration

Non-greasy cream

98% natural origin ingredients

5% Shea Butter

Great for sensitive skin
Our Ultra Rich Face Cream answers the essential needs of dry to very dry and sensitive skin types. Skin is left feeling supple, soft and protected.
Benefits
25% Shea butter
42 hour hydration
Vegan
Made with 95% natural origin ingredients
Dermatologically tested
Hand Creams & Lotions
We offer a range of hand creams and lotions. The main difference between the two is their consistency and how nourishing they are. Hand lotions have a lighter texture and are formulated with 5% organic Shea butter. They're ideal for those with a 'normal' skin type, providing the skin with light hydration and counterbalances the drying effects of water. L'Occitane hand creams have a richer texture and higher concentration of organic Shea butter (ranging from 20-25%) and are ideal for those with dry to very dry hands that are in need of lasting nourishment.
Our soft lotion is formulated with over 95% natural origin ingredients, helping to compensate the drying effects of hard water on the skin. Ideal for normal skin types, this hand lotion gently moisturises and delicately scents the skin.
Benefits
5% Shea butter
Light, non-sticky texture
Fast absorbency
Subtle scent of Verbena
Our cult favourite Shea Butter Hand Cream is a super creamy balm that penetrates the skin quickly to protect, nourish and moisturise dry to very dry hands. 1 sold every 3 seconds.
Benefits
20% Shea butter
Blend of argan and coconut oil for added nourishment
Vegan
96% natural origin ingredients
95% recycled aluminum tube
This anti-ageing hand cream combines 5% of nourishing Shea butter with Immortelle essential oil to reduce the visible signs of ageing on the hands like elasticity, dryness, dehydration and uneven skin tone.
Benefits
24 hour hydration
Enriched with Shea butter, Immortelle essential oil and naturally derived hibiscus flower acids
Rated 5 stars
Great for mature & dry skin
Our Intensive Hand Balm is the most nourishing hand cream - specially adapted for very dry, rough or cracked skin on hands. Forming a protective film, it rescues and replenishes even the driest of hands.
Benefits
25% fair trade organic Shea butter
Vegan
Allantoin - naturally moisturising and regenerative
Ultra rich texture
Foot Creams
Enriched with 15% Shea butter, this hydrating foot cream also has anti-inflammatory benefits to moisturise and relieve irritated and tired feet. It's creamy texture is quickly absorbed without any sticky film, keeping feet softer for longer.
Benefits
Contains antiseptic A.O.C. lavender essential oil to purify
Cooling effect
Enriched with Arnica Flower Extract to soothe dry feet
Our most nourishing foot balm is specially adapted for very dry, cracked and rough feet. It's ultra rich non-sticky texture melts in and immediately soothes the skin. Used daily, it helps to noticeably reduce roughness and fight against dryness.
Benefits
25% Shea butter
Intense hydration for hands and feet
Enriched with D-Panthenol & allantoin to soothe and comfort
Shea Butter Body Moisturisers
Shea butter is renowned for it's nourishing and protective properties. Opt for a Shea moisturiser if you have dry to very dry skin that requires nourishment.
A creamy body lotion helps to comfort dry skin and soothe feelings of skin tightness, ideal for moderately dry skin. Massage onto body after bathing or any time skin feels dry or tight.
Benefits
15% Shea butter
Enriched with calendula extract for a soothing effect
Honey and sweet almond extracts to add moisture to the upper layers of the skin
24 hour hydration
Dermatologically tested
Shea Ultra Rich Body Cream offers you the ultimate relief for very dry, cracked and sensitive skin. Our best body cream intensely moisturises and nourishes the skin, leaving skin feeling beautiful and smooth all day.
Benefits
25% Shea butter
Strengthens skin's hydrolipidic barrier
Vegan
95% natural origin ingredients
Fresh and creamy scent of jasmine and ylang-ylang
Our multi-use balm helps to nourish and protect dry or sensitive skin, beneficial for treating cracked skin, dry patches, sun-damaged or dehydrated skin and more.
Benefits
One of our best sellers

100% Shea butter

100% natural

Certified organic and attested fair trade from Ecocert

Treats dry skin but also protects skin from further dehydration

Rated 5 stars
Almond Body Moisturisers
Almond oil is naturally rich in omegas 6 and 9, known to soften and moisturise skin. Opt for an Almond body moisturiser if you are looking for hydration.
Almond Milk Concentrate has a velvety texture that delivers long-lasting hydration, improves suppleness and visibly smoothes the skin.
Benefits
Enriched with sweet almond oil and almond milk
Ideal for firming and improving skin's elasticity
48 hours of hydration
95% naturally derived ingredients
Vegan
Almond Delightful Body Balm has a rich buttery balm texture that melts in and leaves the skin feeling nourished and supple.
Benefits
Enriched with almond oil and almond butter
Normal to dry skin
Vegan
Spreads like cream with the finish of a decadent oil
Great for travel
This delicious rich yet fine body oil effectively helps skin feeler firmer and smoother, leaving a satiny-smooth finish. It can be used on it's own or mixed with your body moisturiser for extra nourishment.
Benefits
50% almond oil
Vegan
Camelina oil - rich in omegas 3 and 6
Normal to dry skin