Relaxing Pillow Mist
Blended with essential oils, this mist creates a calming atmosphere that promotes relaxation and a restful sleep.
Made in France
https://nz.loccitane.com/relaxing-pillow-mist-11BO100CS19.html
SKU: 11BO100CS19
Formula Used In Our Spas

Made with essential oils, this mist can be sprayed in your bedroom, 15 minutes before going to bed, to create a calming atmosphere conducive to relaxation and well-being. Blending essential oils of; lavender, bergamot, mandarin, sweet orange and geranium known for their relaxing properties. 100% natural scent with proven soothing effectiveness*.
*Effectiveness test based on instrumental measurements.
Cannot be express shipped due to flammable item.
Featured Ingredients
Lavender Essential Oil

Known for its soothing and purifying properties, this essential oil is very popular for its relaxing scent.

Sweet Orange Essential Oil

Known for its soothing and relaxing properties.

Geranium Essential Oil

Known for its purifying, astringent and soothing properties.
CONTAINS: D-LIMONENE, GERANYL ACETATE, LINALOOL.
Applying Immortelle Reset Serum before you go to bed gives you a chance to reverse some of the negative effects your skin has suffered during the day, as skin renewal is most active at night. Our hydrating serum smoothes fine lines, allowing it to recover overnight for a healthy and rested glow in the morning.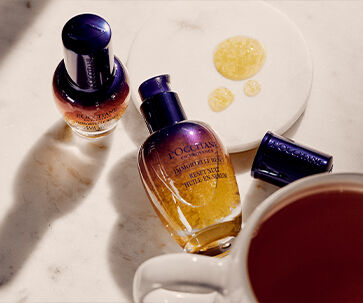 You may also like

Get all your questions answered from the L'Occitane community.